Cavity King | Cavity Fluid | 24 pk
SKU: 1-CAVKING
Features:
Quick action with excellent penetration and dispersion for maximum protection.
At 25 index this cavity fluid furnishes excellent preservative power to protect against visceral putrefaction and odor.
Highly recommended when circulation is destroyed;

Cancer, gangrenous, and ulcerated tissue.
Other disease damage.
Crushed or mutilated bodies.
Embalmer's tips:
Citrus and woods odorizing agents. Excellent bug repellant. 

Useful on ship outs or delayed burial. 
Price is for a 24pk case of 16oz/473ml bottles
(25 index)
SKU: 1-CAVKING
Regular price
$102.82 USD
Regular price
Sale price
$102.82 USD
Unit price
per
Sale
Sold out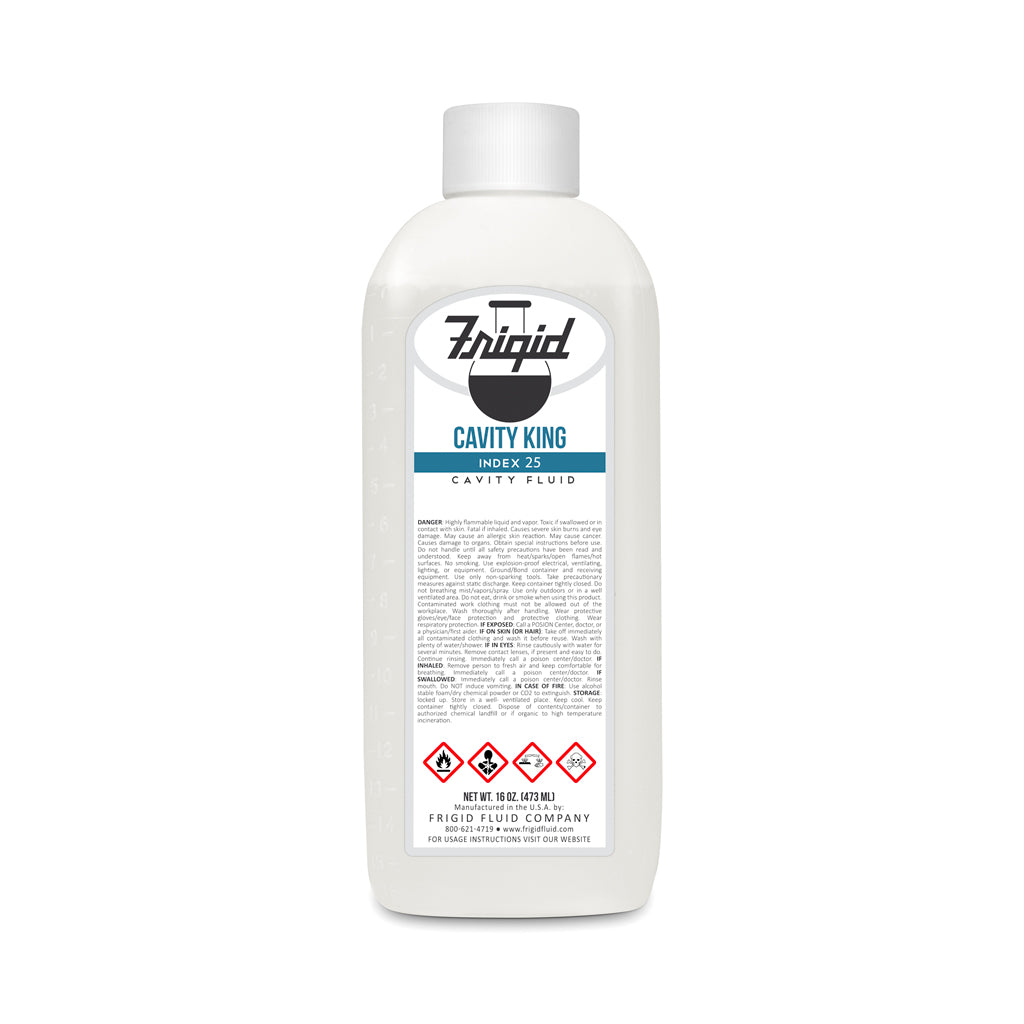 Product Specifications
Product Information
SKU
1-CAVKING
Fluid Type
Fluid Index
25 Index
Bottle Size
16 oz
Case Size
24 pk
Unit weight
31 lb
Recommended Used For

Cases with poor circulation
Cancer, gangreenous, and ulcerated tissue
Mutilated bodies
Infant cases where arterial embalming is difficult

Safety Data Sheet
Safety Data Sheet
Product Information
Product Name
Cavity King | Cavity Fluid | 24 pk -

Default Title

SKU
1-CAVKING
Components
Components
31 lb
Device Information
| | |
| --- | --- |
| Minimum Dimensions | |
| Maximum Dimensions | |
| Weight | |
Usage Guide
Cavity King
Normal cases: 1 or 2 pints.
Larger bodies: at least 2 pints are required.
Special Circumstances:
Where decomposition is well under way, at least two pints or more are recommended.
Additional Uses:
Cavity King can be used for treating infant cases where arterial embalming is difficult to accomplish.
For use as an external pack for skin slip, bed sores and other regions of decomposition, saturate cotton or toweling with Cavity King and place it over the affected area. Cover the pack with plastic sheeting to improve contact and to control the fumes.