Color Guard 1 | Jaundice Fluid | 24 pk
SKU: 1-COLOG I
Features:
Intended for use with a low to moderate index arterial fluid and cool water.
It chemically reacts with bilirubin to change its yellow coloration to a red or rosy tone. 
The yellow of jaundice can be significantly reduced, especially in visible body areas.
Color Guard 1 does not contain preservative properties. 
Price is for 24pk case of 16oz/473ml bottles
SKU: 1-COLOG I
Regular price
$124.59 USD
Regular price
Sale price
$124.59 USD
Unit price
per
Sale
Sold out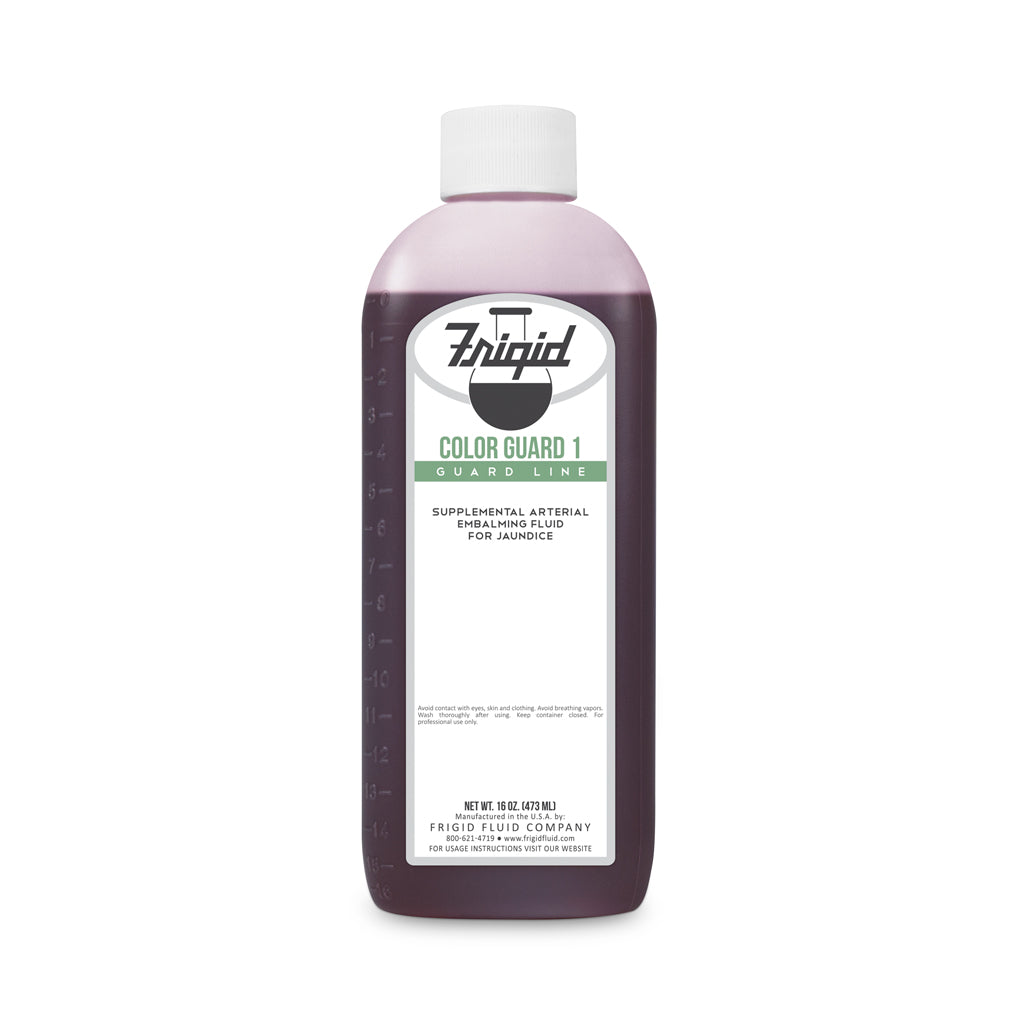 Product Speciications
Product Information
SKU
1-COLOG I
Fluid Type

Pre / Co-Injection
Arterial Fluid
Jaundice Fluid

Fluid Index
0 Index
Bottle Size
16 oz
Case Size
24 pk
Unit weight
31 lb
Recommended Used For
Safety Data Sheet
Safety Data Sheet
Product Information
Product Name
Color Guard 1 | Jaundice Fluid | 24 pk -

Default Title

SKU
1-COLOG I
Components
Components
31 lb
Device Information
| | |
| --- | --- |
| Minimum Dimensions | |
| Maximum Dimensions | |
| Weight | |
Usage Guide
Color Guard I – Jaundice (no preservative properties)
Color Guard I does not contain preservative chemicals so will not firm the body. It is intended to be used with a low to moderate index arterial fluid.
Use 8 to 16 ounces per gallon of cool or cold water, depending on the intensity of yellow color present and color development desired.
Add 7 to 12 ounces of arterial fluid according to professional preference. Use only with a low to moderate index arterial fluid.
Inject using intermittent drainage so it will be well distributed into all the required areas of the body. Color development will take place over a short period of time.
We highly recommend first trying the fluid on an area of the body that will not be shown.
To test the reaction of Color Guard I on a particular body, mix 10cc of Color Guard I with 10cc of arterial fluid and inject into the hip area. A red-pinkish tone should appear after a short time. Once appropriate levels are established for that particular case, the rest of the body can be treated.