PERFECT TONE | Silitech | Arterial Fluid
SKU: 1-PERFTONE
Features:
Multiple surfactants including silicone, lanolin and triethanolamine, for unparalleled distribution, penetration and preservation.
A pliable, smooth, life-like appearance.
A medium firm texture.
No dehydration risk.
A fresh lavender scent
Embalmer's tips:
Great for decedents that had a cool undertone to their skin in life and need enhanced hydration. 
Extra pliable feel to the skin so recommended for families that may be more inclined to touch their loved one.
Use for infants or as an additive for emaciated cases.
Price is for a 24pk case of 16oz/473ml bottles
(18 index)
SKU: 1-PERFTONE 
Regular price
$118.54 USD
Regular price
Sale price
$118.54 USD
Unit price
per
Sale
Sold out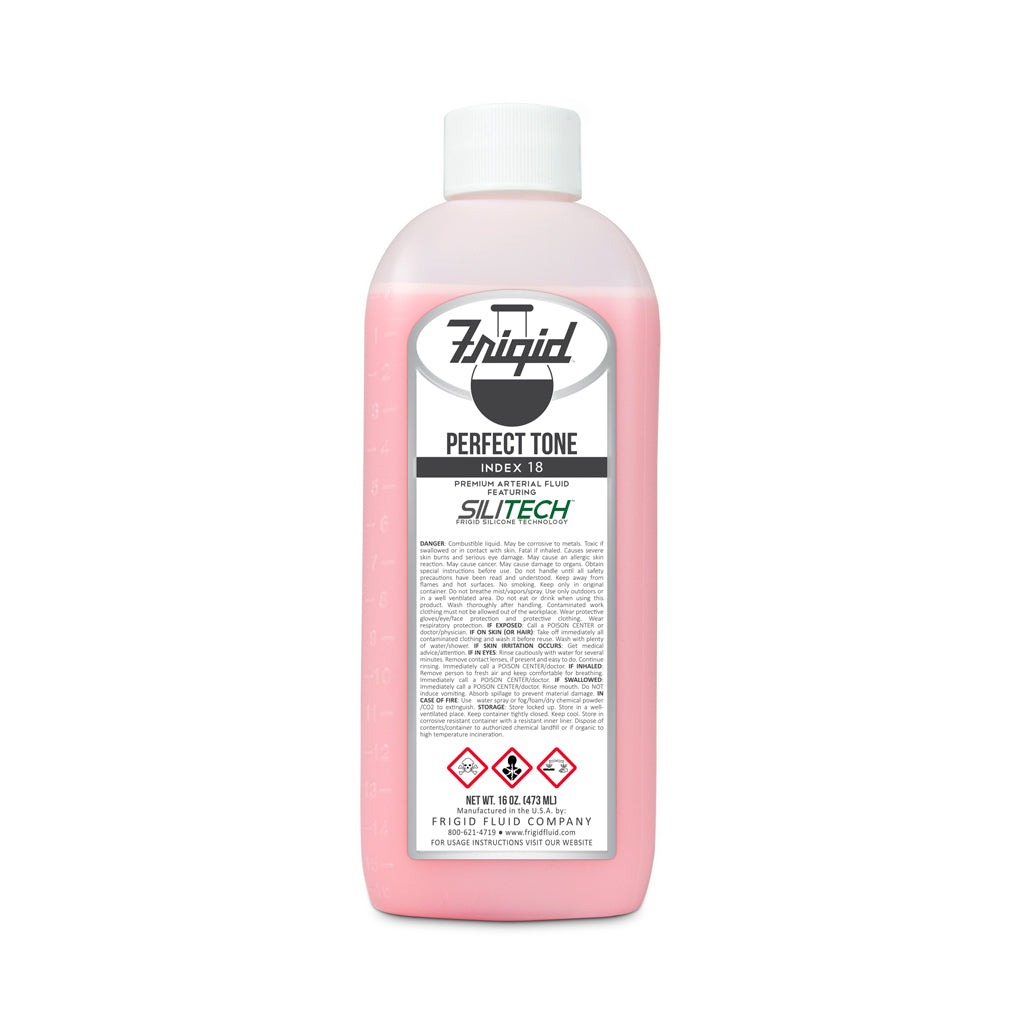 Product Information
| | |
| --- | --- |
| Fluid Type | |
| Fluid Index | |
Product Information
Product Name
PERFECT TONE | Silitech | Arterial Fluid -

Default Title

SKU
Components
Device Information
| | |
| --- | --- |
| Minimum Dimensions | |
| Maximum Dimensions | |
| Weight | |
Usage Instructions
Perfect Tone (18 index, Silitech)
Shake well before using.
Normal cases: use 8 to 10 ounces of Perfect Tone per gallon of water.
Smaller cases, depending on the condition of the body, 4 to 6 ounces per gallon may be sufficient.
For additional firmness use 10 to 12 ounces per gallon or as professional judgment dictates.
Special Circumstances:
Use Water/Clot Guard when moderate to heavy clotting is anticipated or distribution seems to be poor.
Free Flo or Plasma Flo may be used as a co-injection if congealed or clotted blood is anticipated.
In hard water areas: add 2 to 4 ounces of Water/Clot Guard.