Solvol | Pre-Injection Fluid | 24pk
SKU: 1-SOLVOL
Features:
As a pre-injection it is excellent for a mild fluid flushing of the arterial and capillary system to allow better distribution and penetration of an arterial fluid.
Useful as a bleaching agent, it penetrates readily into affected tissues to reduce and flush out objectionable discoloration.
Special ingredients help prevent water-logging by promoting good drainage.
Superior fluid for embalming infants: its low formaldehyde content, modifiers and mild formulation provide adequate preservation without harming delicate tissues. 
Embalmer's tips:
Frigid Solvol and Plasma Flo compliment any arterial solution you create. 

If pressed for time and you can't allow a body to get back to room temperature after refrigeration, use Plasma Flo and Solvol (about 4oz of both) along with 2 bottles of Standard and 1 bottle of 36 Plus in a 3 gallon water solution. Clots will come out steadily throughout injection. The body will rest into room temp and there will be no adverse effects. Firmness and natural skin texture will hold for many weeks. 
Price is for a 24pk case of 16oz/473ml bottles
(6 index)
SKU: 1-SOLVOL
Regular price
Sale price
$94.35 USD
Unit price
per
Sale
Sold out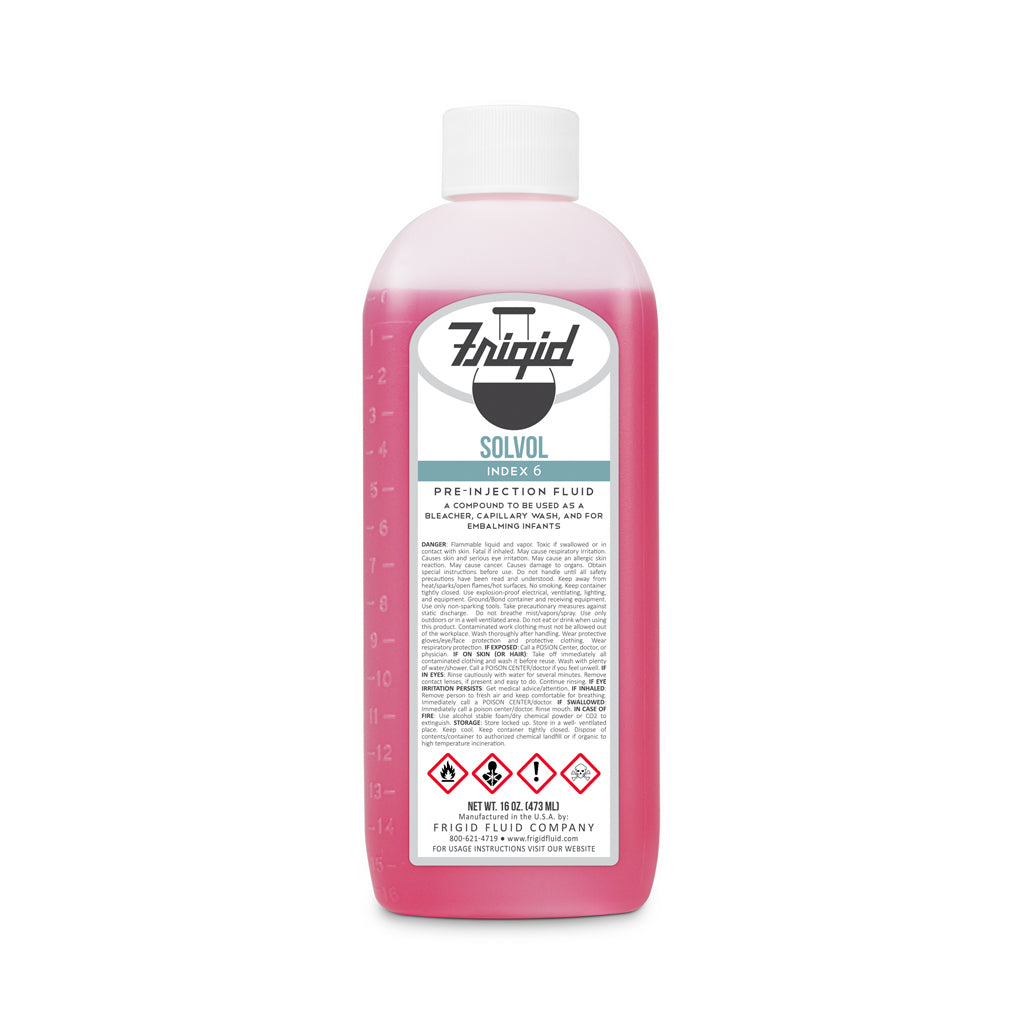 Product Information
| | |
| --- | --- |
| Fluid Type | |
| Fluid Index | |
Product Information
Product Name
Solvol | Pre-Injection Fluid | 24pk -

Default Title

SKU
Components
Device Information
| | |
| --- | --- |
| Minimum Dimensions | |
| Maximum Dimensions | |
| Weight | |